ACPA Webinar Series: Critical Asset Management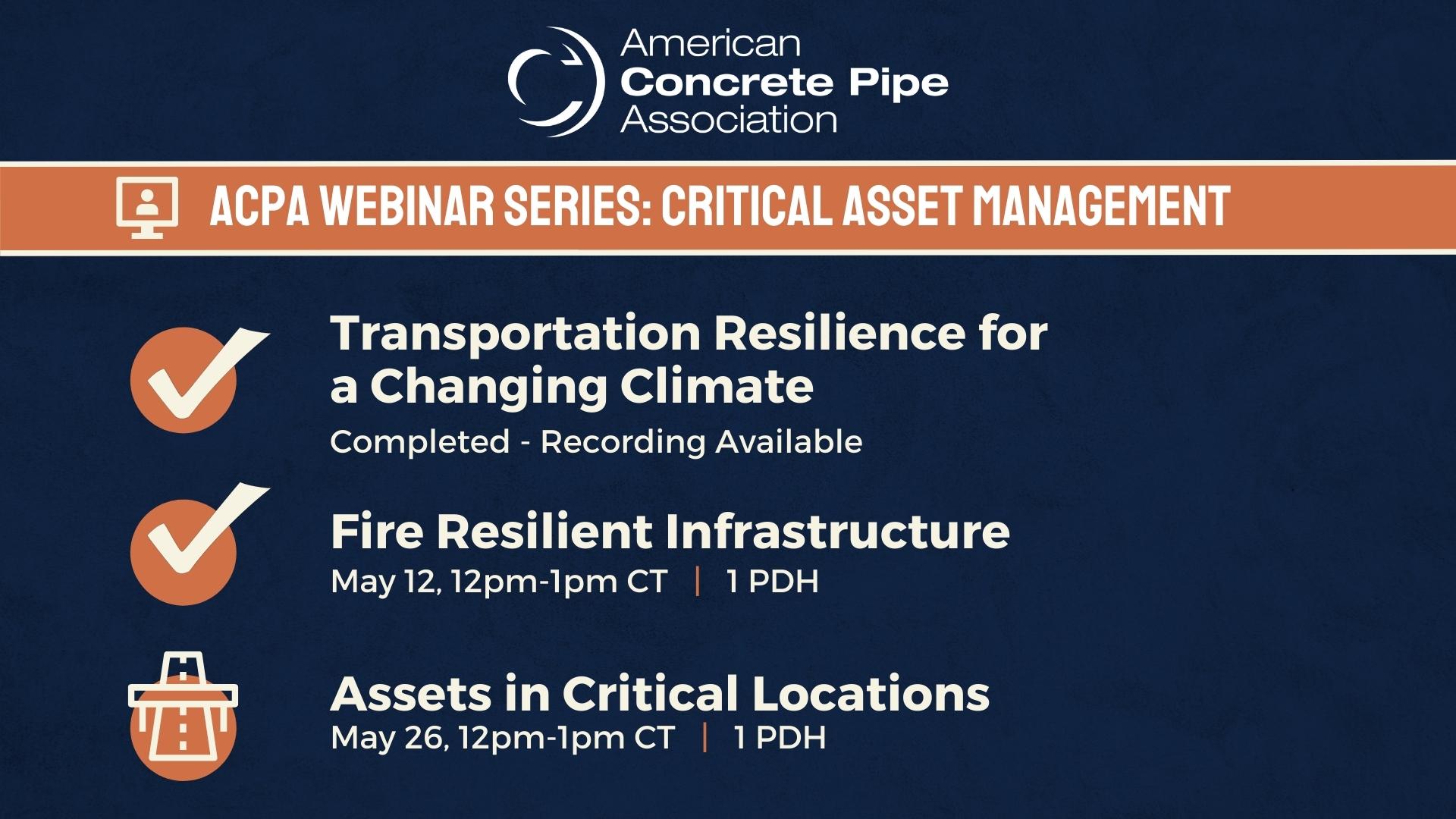 Learn about asset management in today's changing environment!
Join industry experts for a three-part webinar series about the impact of extreme weather events. Learn how to plan for the changing climate, and the key role of resilient infrastructure. Understand how the right data from a robust asset management program can be used to help prepare for recovery from major natural disasters, and to determine the most appropriate mitigation planning.
Transportation Resilience for a Changing Climate: WATCH WEBINAR RECORDING.
Fire Resilient Infrastructure: WATCH WEBINAR RECORDING
Assets in Critical Locations: May 26th | 12pm - 1pm CT
Transportation Resilience for a Changing Climate
Webinar Description
Year after year, States and communities across the Country are seeing an increasing number of intense extreme weather events, causing substantial impacts to transportation systems across the United States. Join the ACPA for discussions on resiliency and sustainability featuring the Pennsylvania Department of Transportation and how this State Agency is working toward meeting the challenges involving climate change, equity, infrastructure resiliency, and safety. All agencies in the Country are encouraged to attend this open forum to hear insights from peers, share their own perspectives and explore opportunities for collaboration.
PennDOT's presentation will demonstrate ways the agency is monitoring extreme weather events; they will detail the techniques and programs used to compile data from these events. Explanation of the results will show the changing climate and the effect on Pennsylvania's current transportation infrastructure. Solutions currently under development to mitigate the impacts will be presented. PennDOT will highlight their pro-active response focusing on the goal of solving these "Climate Change" problems. The content will aid participants understanding of the change in weather patterns related to climate. PennDOT will highlight the partnerships and collaboration with other agencies and show practices developed to increase safety and equity to the residents of the Commonwealth. Asset damage and financial burden will be shared to provide perspective to attendees and highlight the need for immediate solutions. Participants are encouraged to question and discuss in an open forum at the conclusion.
Key Takeaways
Empirical data supports and confirms the changing climate and removes the political debate on climate change.

Climate change affects everyone and is one of the most significant problems Engineers face and must consider to date.

The unpredictability of this subject matter emphases' the need for data collection to develop prudent solutions for resiliency and sustainability.

The financial burden and asset damage out weight the design changes and construction costs to develop a more resilient and sustainable transportation system.

The weight is over, climate change is not coming. It is already here.
About the Presenter
Nicholas Vivian, P.E.
Nicholas A. Vivian is the Hydrology and Hydraulics Engineer for the Pennsylvania Department of Transportation (PennDOT), a position he has held since 2019. Mr. Vivian is responsible for the formulation and implementation of the statewide engineering policies for all design and subject matter related to Hydrology and Hydraulics. Mr. Vivian directs a statewide program for quality assurance in the field of Hydrology and Hydraulics, amongst many other responsibilities involving Hydrology and Hydraulics design and modeling, stormwater design and modeling, Hydrology and Hydraulics standards, scour countermeasure design for bridges, environmental permitting, and Bridge monitoring of extreme weather events. Mr. Vivian received an BS in Civil Engineering Technology from the University of Pittsburgh at Johnstown in 2001. He has worked in consulting for six years in addition to the last 13 years at the Department of Transportation. He is a licensed Professional Engineer.
Fire Resilient Infrastructure
Featured Speakers:
Marc Mattox, P.E. - Public Works Director | Town of Paradise, CA
Marc Mattox is the Public Works Director from the Town of Paradise. He was with the Town of Paradise during Camp Fire (2018) devastating the community and is now part of the rebuild of this Town.
Ricardo Medina, Ph.D., P.E. - Simpson Gumpertz & Heger Inc. (SGH) | ASTM E60 & WK77797 Committees
Dr. Ricardo A. Medina is an expert in the field of structural mechanics who specializes in structural fire engineering, multi-hazard assessment, earthquake engineering, and structural evaluation of aging infrastructure to assist clients with issues related to infrastructure risk and resilience.
Webinar Description
Industry experts, Marc Mattox, P.E., Town of Paradise, CA, and Dr. Ricardo Medina, P.E., SGH, will discuss considerations for fire-prone areas including community preparedness and evacuation route planning. Hear key learnings from the 2018 Camp Fire and the importance of resilient infrastructure. Learn about the resiliency based ASTM design standard for culvert and storm drainpipes exposed to wildfire events.
In the webinar, you will hear firsthand the findings from the 2018 Camp Fire and learn about its effects on roadway culverts. Additionally, you will gain insights on the process and workings the California Regional Quality Water Control Board in their efforts to replace 66 extensively damaged high-density polyethylene (HDPE) and corrugated metal pipe (CMP) culverts with reinforced concrete pipes (RCP).
Key Takeaways
Learn about the infrastructure failures caused by the devastation of the Camp Fire in Paradise, CA.

Understand what key infrastructure considerations need to be taken for fire-prone areas.

Discover what the Town of Paradise is doing to help mitigate future disasters.
Assets in Critical Locations
May

26th from 12pm - 1pm CT
Webinar Description
Asset Management provides agencies/owners both a long-term roadmap toward better supervision of asset inventories, as well as data necessary for logical material placement and usage. This information allows agencies to make sound engineering decisions backed by years of data, which in turn improves resilience of the infrastructure system and maximizes sustainability. In this session we will discuss the current issues and actions that impact such decisions in critical locations such as evacuation routes, flood prone areas, emergency access routes, and others. We will explore how asset management data can be used to help prepare for recovery from major natural disasters, and to determine the most appropriate mitigation planning.
About the Presenter
Trygve W. Hoff, P.E., ENV SP
Trygve W. Hoff, P.E., ENV SP is the Northeast Region Engineer for the American Concrete Pipe Association (ACPA). Tryg graduated with a BS in Civil Engineering from The Ohio State University and his professional experience ranges from environmental consulting in Columbus, OH, to architectural engineering in beautiful Lake Tahoe, California.
Tryg lives in Madison, Virginia, near the Blue Ridge mountains with his wife, Brooks, on a small 40‐acre horse farm. Tryg has been promoting resilient infrastructure with the ACPA since 2012.
Register for Webinar Series